Solving Traceability. Generating Value. Driving Growth.
We help manufacturers and producers leverage their data.
We have extensive experience with critical business-applications in many different industries. We know how important ongoing consultation, analysis and support is to our clients' businesses. We understand the importance of scalability, flexibility, and full control. Regardless of the size of your business, our highly qualified team have the expertise to help lift your operations to the next level.
Every business is unique, so too are our support solutions.
We have a team of highly qualified Technicians, Consultants, Software Developers, Project Managers and System Integrators at your disposal. To ensure clients have reliability, quality and limited downtime in production we offer business specific, tailor-made, support solutions that may include any or all of the following options:
A fully engaged Project Manager works proactively with a client to ensure engagement and availability throughout the project. Contributing actively and creatively to the project.
Our professional support team provide high quality support for all client engagement and are qualified to deal with all aspects of consulting, system integration, software, hardware, and equipment.
Start-up.
Our start-up services include integration, installation, configuration, testing, commissioning and training.
Whether it involves just software or just a piece of equipment, or multiple production lines at multiple sites, we make it a rule that when installation and commissioning has been completed, responsibility for operational support is handed over to the CodeIT Support Center (CSC).
Contact the Support Center for all technical assistance, support issues,  spare parts, life-cycle management, and any replacements needed. Likewise, channel all warranty and RMA requests through the Support Center.
We run the CodeIT Support Center using dedicated in-house resources. The Support Center Team handles all support tickets and first-line support. They also coordinate all resources needed for second and third-line support. Maintaining fully updated records about CodeIT installations and any related
special knowledge is one of the Support Team's top priorities.
In addition, the Support Center is responsible for handling our SLA offerings and coordinating the resources to man our special 24/7-365 option.
All CodeIT clients can contact the Support Center, workdays 0800-1700 CET.
Phone: +47 21 00 76 20. Email: support@codeit.no
Click logo to download CodeIT TeamViewer.
Service Level Agreements.
Designed for our software products, an SLA sets out what level of availability and response time a client is guaranteed.
As part of our after-sales service for CodeIT Enterprise™ we can help with special items clients need to keep running smoothly, such as materials, labels, tags, transfer ribbons, inks, spare parts, replacements, etc.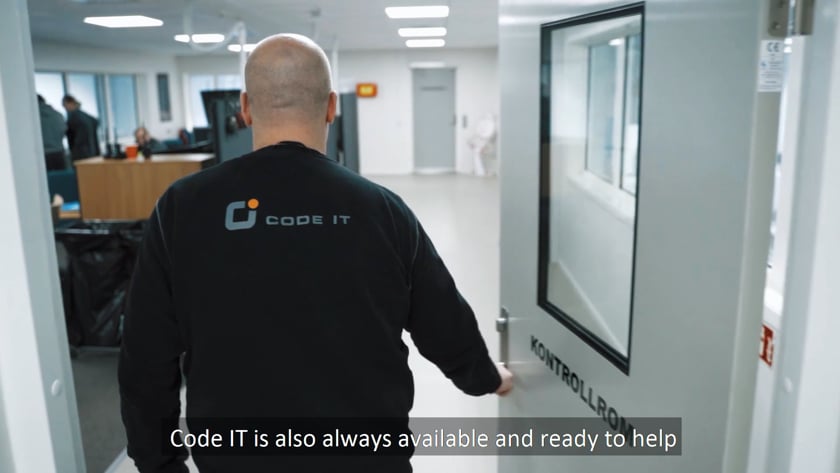 Our highly qualified support team are known for their high level of engineering expertise and their capacity to give guidance, help achieve rapid and successful installation and provide lifelong support. We are continuously developing our service and support offerings to meet and exceed ever increasing expectations, so as to ensure continued success of our clients.